From November 30 to December 2, AdFlex leaders were present in Bangkok, Thailand, to attend Affiliate World Asia. As part of the program, AdFlex had the opportunity to meet, discuss, and share ideas with leading experts in Affiliate Marketing, as well as visit and work with many important strategic partners.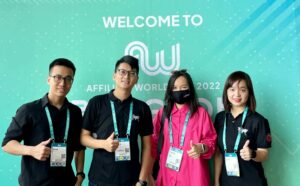 Affiliate World is the world's largest Affiliate Marketing event, bringing together leading e-commerce and marketing experts worldwide. This event is held annually in Dubai, Europe and Asia. This year, Affiliate World Asia was held in Bangkok, Thailand, including a series of seminars, workshops, networking events and world-class exhibitions on the marketing industry.
AdFlex leaders attending Affiliate World Asia this time include CEO Pham Phuong Tu, COO Ngo Viet Nhat, CCO Camy Kim Chi and CPA Traffic Team Leader Tran Bich Ngoc. The AdFlex team achieved positive results in this business trip by learning from the experience of leading enterprises in the field and expanding its network of partners.
"AWA has provided me with updated information about Affiliate Marketing trends in the market. Notably, there are trends in crypto, blockchain, or fintech… "Even though we are well-informed through our daily work, listening to leading experts' discussion and sharing is still an incredible experience, through which I was updated with a lot of useful new information for the company's future activities." – COO Ngo Viet Nhat shared his thoughts following the event in Thailand. 
In response to the event, CEO Pham Phuong Tu stated, "I have met a lot of enterprises that share the same business model as AdFlex. As a result, I see a lot of strong competitors in the market we're in. In order to improve our quality, services and business performances, we as leaders will face great challenges ahead."
Aside from AWA activities, AdFlex's leaders were able to visit and work at the offices of some partners. Our CEO Pham Phuong Tu shared the following after working at the office of AppsFlyer – one of our most important partners: "Previously, I could only get them through Google Meeting or Skype; now, I can visit their office and work face-to-face efficiently." They greeted me enthusiastically and attentively; the work is also extremely neat and productive. We and our partners were both pleased and satisfied with the outcomes of the meeting. We will continue to meet soon in Thailand or in Vietnam so that we can discuss more about our business."
Aside from the enthusiastic and effective work, AdFlex spends some time exploring Bangkok with the company's partners. Bangkok left an impression of a beautiful city with friendly people, well-planned traffic roads, and very convenient travel.
Closing the journey at AWA Bangkok also marks the end of AdFlex's successful and effective year in 2022. It is expected that this will serve as the foundation for our more enthusiastic and exciting activities in the coming year 2023.
Read More